E-mobility pressure pulsation test with positive and negative pressure or vacuum test + media temperature control and climate chamber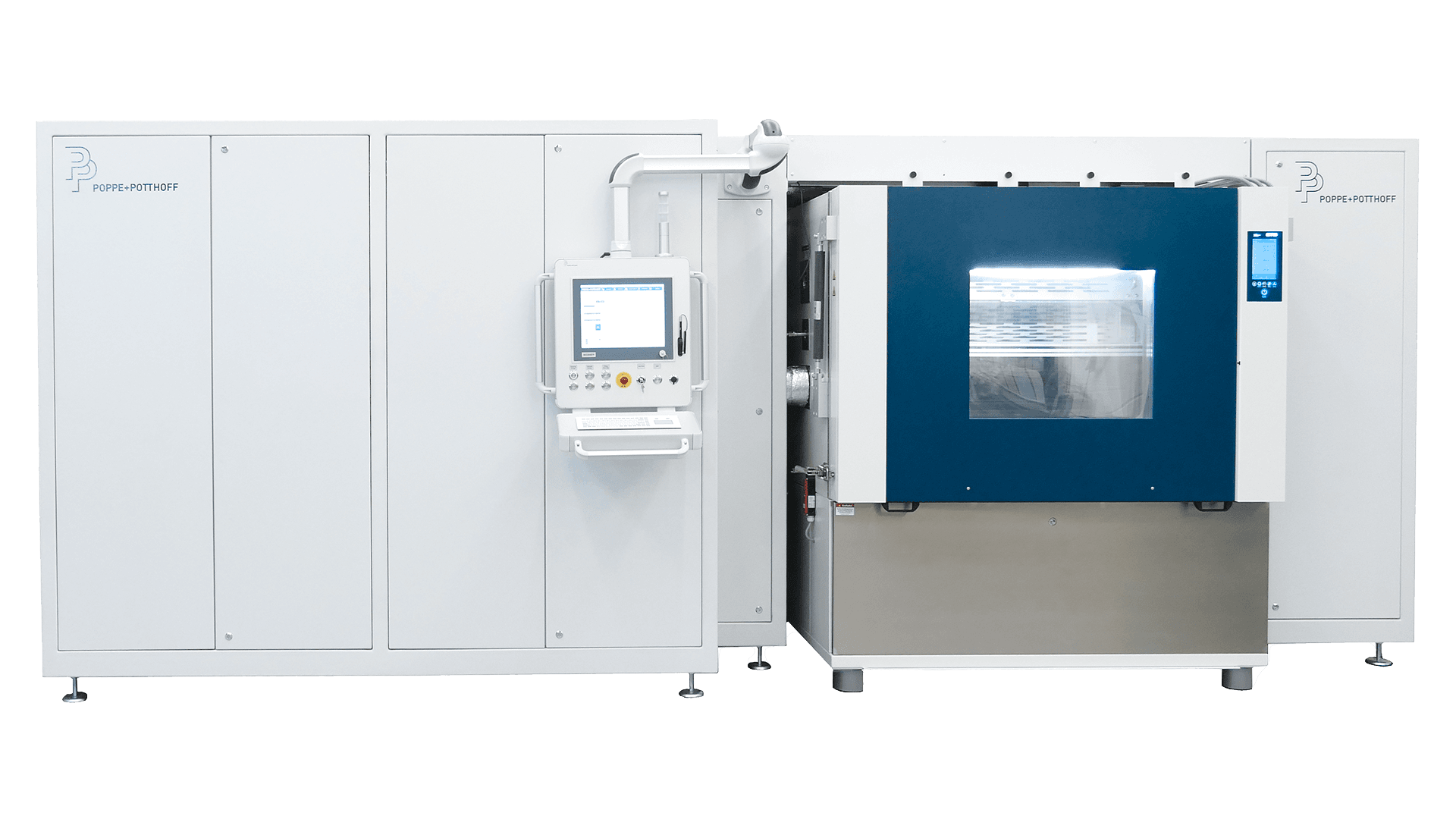 Fields of application
Technical Specification
Typical DUTs (Cooling Circuits)
E-Mobility
Norms:
– MBN 10306 M-07
– VW8000 M-07
– GS 95024-3-1 M-07
– GS14193

Aerospace

Liquid Cooled Components

Test medium: Water + Glycol

Customized hydraulic pressure intensifier

Pressure: Up to 20 bar

Ambient temperature: -60 °C to +160 °C (climate chamber)

Media temperature: -40 °C to +140 °C

Pressure Pulsation

Curve: sinusoidal + trapezoidal

Frequency: 0,1 to 2 Hz

Flow rate up to 50 l/min
– ECUs
(electronic control unit)

– PTC Heater

– High Voltage Coolant Heater

-Radiator

– AC/DC | DC/DC converter

– Heat Pumps

– Coolant circuit hoses + connectors

– High Voltage Coolant Heater

– Chiller

Flagship Poppe + Potthoff E-Mobility Test Rig for Pressure Pulsation Testing on Coolant Circuit Components
Pressure Alteration Testing for Cooling Circuit Components

Discover the cutting-edge world of pressure pulsation testing with Poppe + Potthoff Maschinenbau's state-of-the-art Pressure Rig! Equipped with media flow control and capable of handling pressures of up to 20 bar (and more), this flexible system can be customized to meet the unique testing needs of our valued customers.
Our Pressure Rig is specially designed to conduct tests adhering to industry standards such as VW8000 or BMW Group M07, which involve subjecting cooling circuit components to under and overload pressure conditions. Given the rising demand for such tests in the automotive industry, our rig stands ready to deliver precise and accurate results.
As an independent unit, our Pressure Pulsation Rig boasts an integrated media temperature control system, seamlessly incorporated with a climate chamber. Powered by a hydraulic pressure intensifier, it can confidently handle pressures up to 20 bar, making it the ideal tool not only for pressure cycle testing but also for vacuum testing with a pressure change from negative to positive pressure.
At Poppe + Potthoff Maschinenbau, we frequently test various electronic control units (ECUs) and their cooling circuits, cooling plates, battery housings, AD/DC, DC/DC converters, high voltage cooling heaters (HVCH), heat exchangers, liquid-cooled power converters, and other components under rigorous pressure cycling. Our rig ensures optimal performance and reliability under real-world conditions.
Technical Specifications:
Pressure cycle test with flow control: 0.2 bar – 6 bar (rel.) at 30 1/min
Overpressure test (up to 4 bar for ~1 hour)
Vacuum testing for ~ 30 min
Pressure change from negative pressure to positive pressure under medium (without flow control): 0.5 bar – 2.5 bar
Inclusive of hydraulic system
PC with LabView-Software integration
Seamless connection to climate chamber
Test media: (Water-) Glycol (gas for vacuum testing)
CE-compliant
Flexibly designed to meet your requirements
Compliant with GS 95024-3-1 M-07, MBN 10306 M-07, GMW141913, and VW80000 M-07 standards
Download the one-pager of this test rig here.