Autofrettage Systems up to 15 000 bar. Autofrettage systems enable manufacturers to extend the fatigue strength and service life of components such as common rails, pump heads, (diesel) injection lines and many other components in research and development as well as in series production.
Autofrettage

up to 15 000 bar
Autofrettage is a method for increasing the fatigue strength of components for use at high and pulsating pressures. Consequently, Autofrettage compresses a container's inner surface, making better use of the material's structural properties. The process can reduce fatigue concerns in pulsating pressure applications and lets engineers reduce tubing thickness in high-pressure applications without sacrificing strength, life, or safety.

The autofrettage method is based on the reciprocal relationship between the plasticized inner zone and the elastically deformed outer zone. For that reason, the components are placed under so much pressure that their interiors become plastically deformed. After relaxing, pressure stresses are created in these areas, which prevent the outer areas from reforming to their original shape. Instead, it remains stretched. This prevents crack formation in operation, increases the service life of the components, and therefore offers cost reduction potentials.

Typical applications are liners and jackets for high-pressure pumps, pump housings, automotive common-rail injection components for cars and trucks, but also cannon and gun barrels. We at Poppe + Potthoff Maschinenbau GmbH are the leading manufacturer of Autofrettage systems.
Multipurpose Autofrettage
Due to its high variability, the Universal Autofrettage is ideal for research and development purposes as well as for smaller series production. It increases the fatigue strength of high-pressure components such as pipes, lines, valves, rails, pump heads, sensors and other pressure vessels.

For variable geometries
Components with different geometries can be flexibly autofrettaged on this system. The conversion is carried out by changing the device. The Autofrettage parameters are freely programmable and editable.

Pressure intensifier
The pressure intensifier consists of a drive and a high-pressure part. The hydraulically-driven pressure converter also acts as a mediator.
Performance Data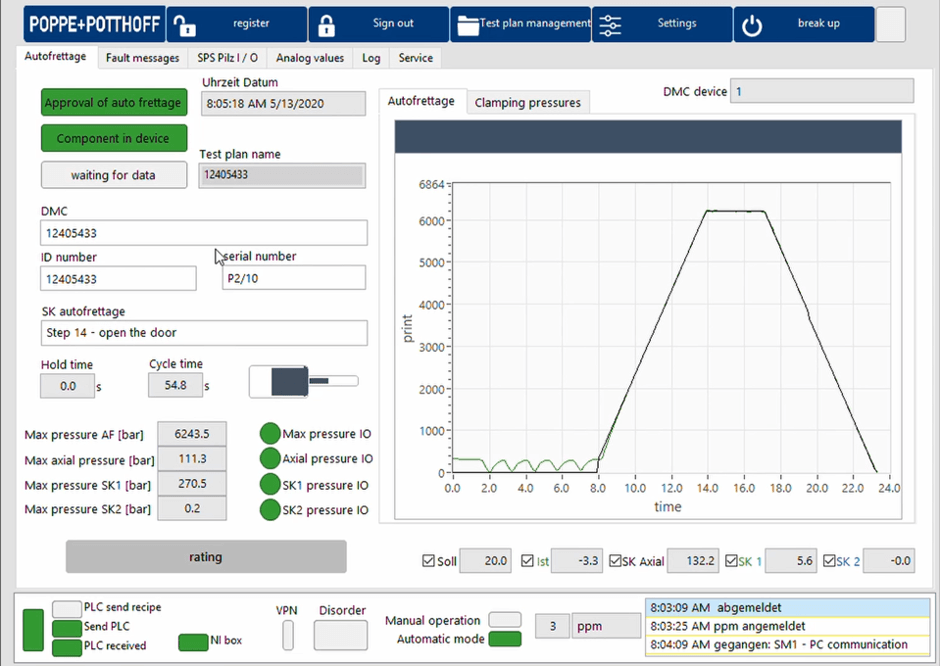 Common Rail Serial Production Autofrettage
The autofrettage system consists of two subassemblies that are combined into a single compact rig. The pressure generation system (hydraulic intensifier) and the electric control cabinet are installed on one side of the rig. The other side is designed as a test chamber. An automatic door is installed in front of the chamber, while a safety lens in the protective door allows for an observation of the component. The protective door is secured and is programmed to not be opened during the autofrettage process; making it a very safe rig.
Performance Data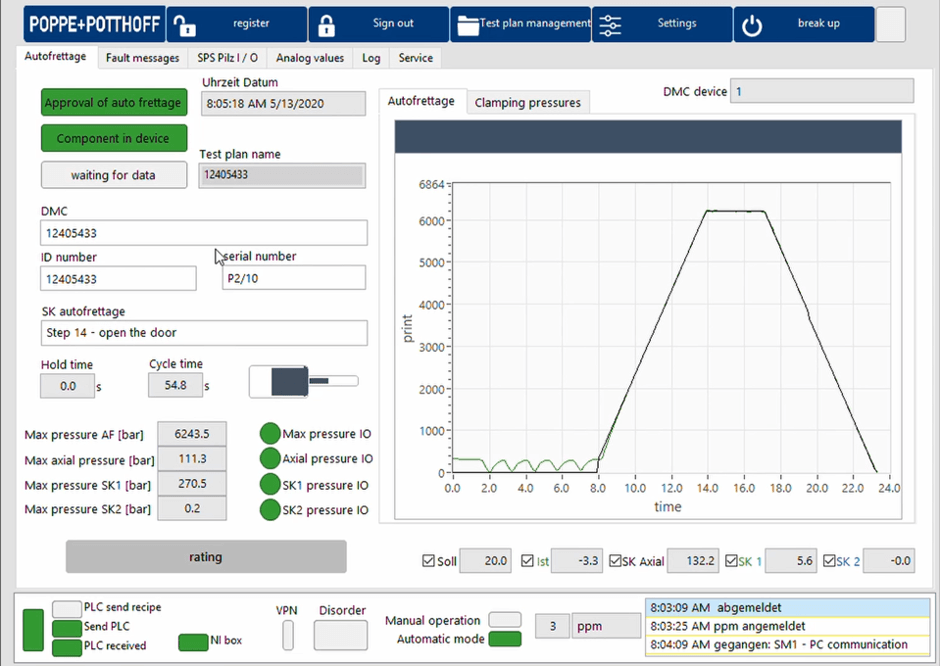 Autofrettage for Injection Lines
With this system, high-pressure lines for diesel injection are automatically prepared for use with pulsating pressure in series. Different components can be autofrettaged with the system. The changeover is carried out by changing the device.
In a series of ten
A protective door opens on the front for manual insertion and removal of up to ten lines. The control panel is on the right. Among other things, the autofrettage pressure can be freely programmed here. All other relevant data is also displayed there for the operator.
Performance Data
Upgradable Autofrettage Rig for Lines
The diesel injection line autofrettage system is an independent unit for the autofrettage of diesel injection lines up to 8,000 bar. Most Poppe + Potthoff Autofrettage rigs can be upgraded to a 10000 bar and 12000 bar autofrettage systems, as well as extended to a multi-chamber system. If your production ramps up, the system can be equivalently adapted. This uniquely developed autofrettage unit is a great starter system as it can be gradually increased from one chamber, to two chambers and all the way to or even 6 chambers in some cases.
Performance Data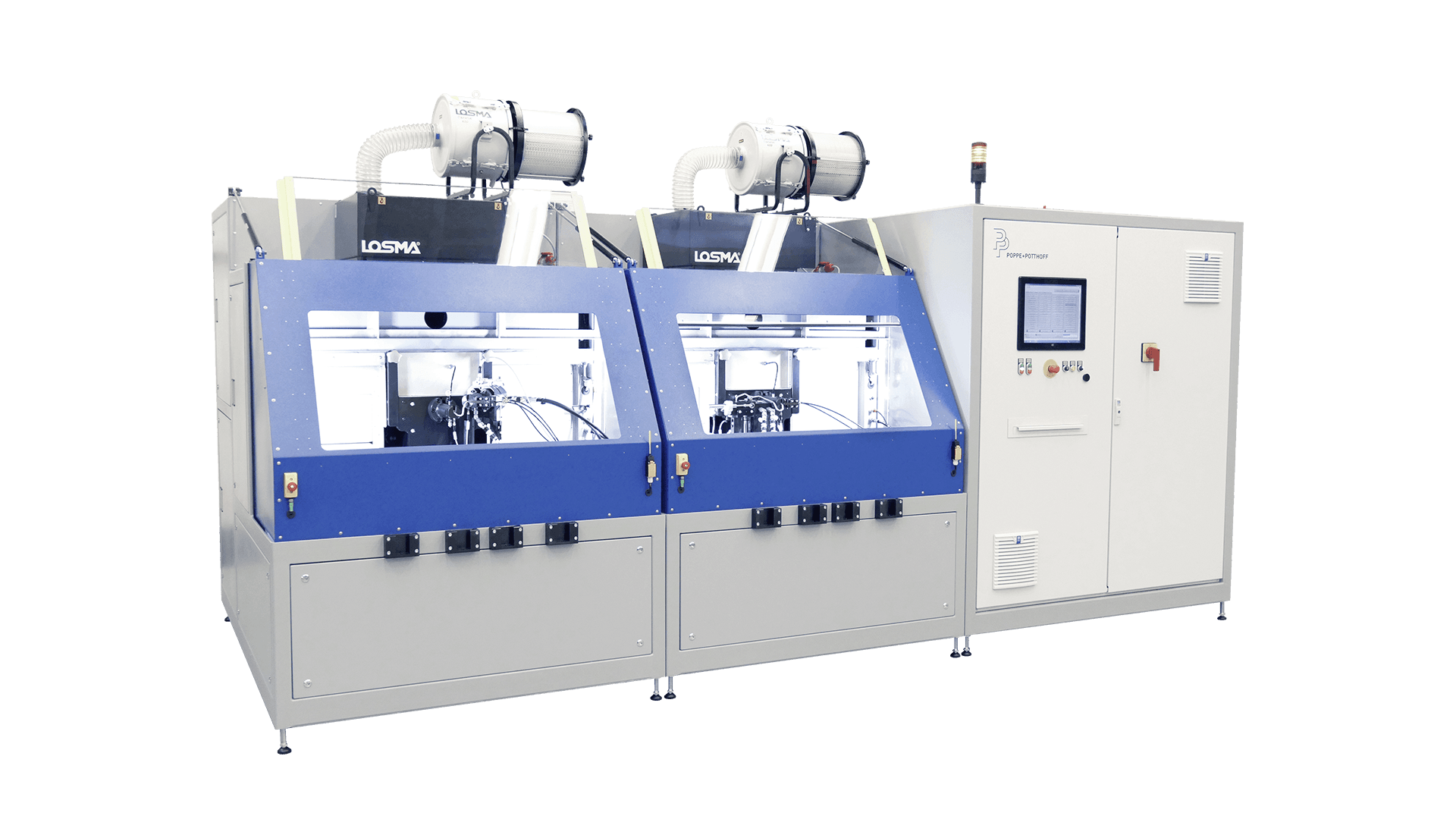 Autofrettage for Prototypes and Development
The Autofrettage system is ideal for research and development purposes. The rig allows high flexibility in terms of components that can be autofrettaged. Although limited for autofrettage on high quantities the rig is ideally placed in labs working on improving fatigue strength and material composition of new components. The Autofrettage pressure is freely programmable to fit customers' requirements per each DUT. The control panel is located at an ergonomic height for operators and all relevant data is displayed to the operator and can be quickly edited at any time.
For example, it is possible to convert the system from a rail device to a pump head device. The system thus allows the autofrettage of various components and can be integrated into research and development as flexibly as possible. Even a small production can be supported with the system.
Performance Data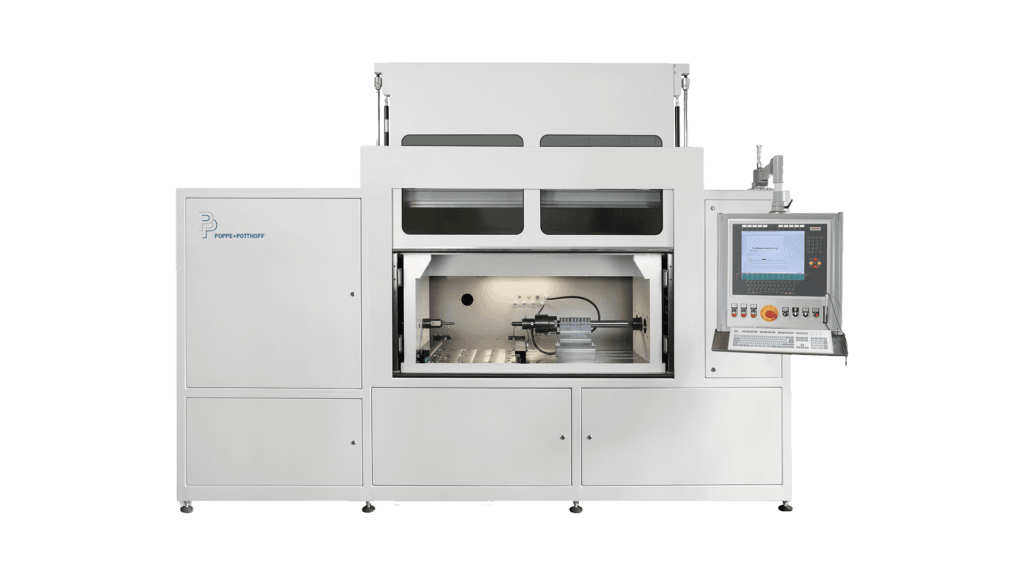 Testing as a Service
At Poppe + Potthoff we offer autofrettage in various pressure ranges and for many components as a service. Whether for research and development or serial production, please contact us with your testing requirements for a non-binding offer.
Test RIGS and Applications–

Accurate and reliable
As a specialist in pressure testing technology and test rigs, Poppe + Potthoff Maschinenbau supports the development and production of extremely resilient components made of various materials – especially for automotive, shipbuilding and mechanical engineering as well as fluid and the medical industry. We offer individually designed test benches such as burst pressure test rigs, pressure cycle test benches, leak test systems, functional test rigs and autofrettage systems.
Our experienced technical sales team will help you with the implementation of your project and will find a solution tailored to your specifications and your requirements. We are represented internationally and can support you and your company worldwide. Our team has completed hundreds of projects many of which involved supporting test facilities with identical equipment. P+P Maschinenbau is your internationally trusted partner.
---
Expertise, excellent knowledge of the market and affinity for our products guarantee our success.
---