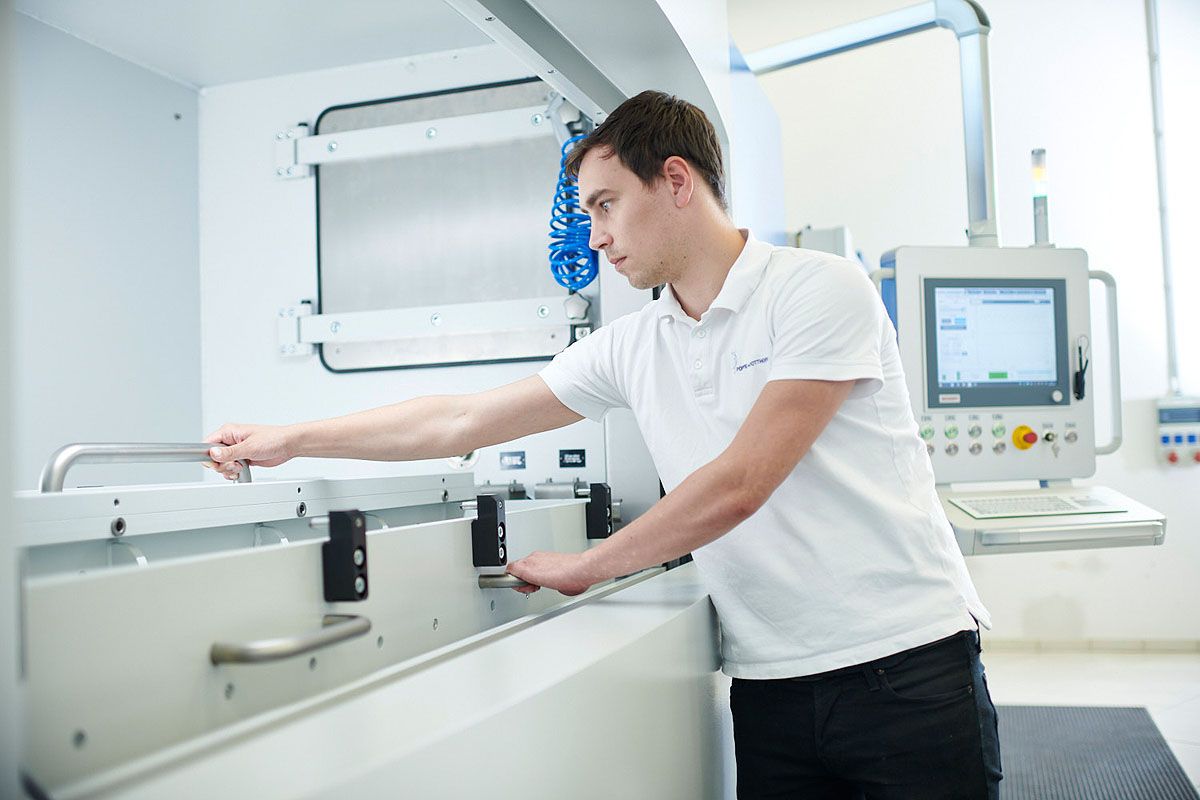 Test benches for special applications. In addition to a range of modular pressure test benches, we support research and development. Our experienced team is constantly developing new concepts and test benches that fully meet customer requirements. Talk to us about your project and we will help you with the implementation of a unique rig.
Special Applications By

Creative test Stand Builders
Product and component development can be complicated and frequently requires new ways to validate and test new developments. Our team of experienced test bench and machine builders, led by engineers, will support you in the implementation of your project. It could be as simple as a lack of space in the laboratory, which requires a creative test bench design, or a complex project involving the use of various pressure intensifiers; we at Poppe + Potthoff Maschinenbau GmbH are happy to help you.
Pressure cycle test bench for Pipes and Hoses
The test stand consists of several modules. Due to specific customer requirements, the modules were arranged creatively.
Hoses, pipes and pipe connections for industry must be able to safely withstand predefined pressures. To prove their quality, they are subjected to pressure, sometimes to the point of failure or bursting. A new type of technology is used in these test benches from Poppe + Potthoff, which makes it possible to determine the bursting pressure in just fractions of a second and thus to prove and document the quality of the components used in the shortest possible time. This particular test rig contains modules specially arranged at the customer's request to suit the space of the test laboratory.
Performance Data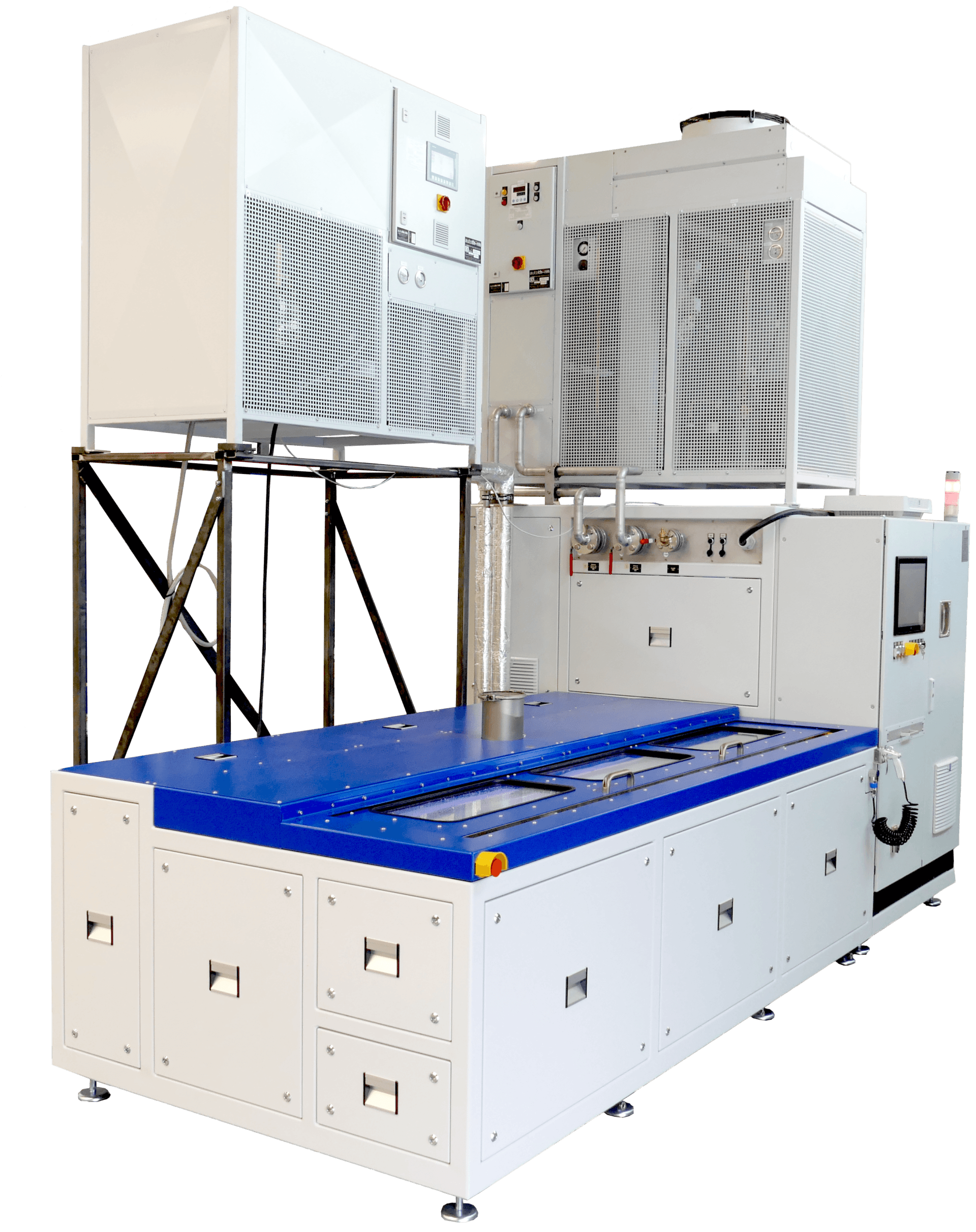 Pressure Cycle and burst pressure test bench with 8x pressure intensifiers
A powerful and flexible pressure test stand with 6x pressure intensifiers up to 500 bar, one pressure intensifier up to 2000 bar, 2x climate chambers and a bursting pressure test up to 4000 bar. The pressure intensifiers can be used independently in both chambers.
The pressure test rig is an independent and truly unique unit. It contains a media temperature control unit, various pressure intensifiers, and a controller unit for operations and data acquisition. The system can be used for various pressure pulsation tests at 500 to 2000 bar at changing media temperatures with oil (e.g. Wunsch E12) being the test fluid. A separate temperature chamber enables the simulation of ambient temperatures. Alternatively, it is of course possible to use a regular stainless steel test chamber. The system is operated via an industrial PC that records and documents the test data.
Performance Data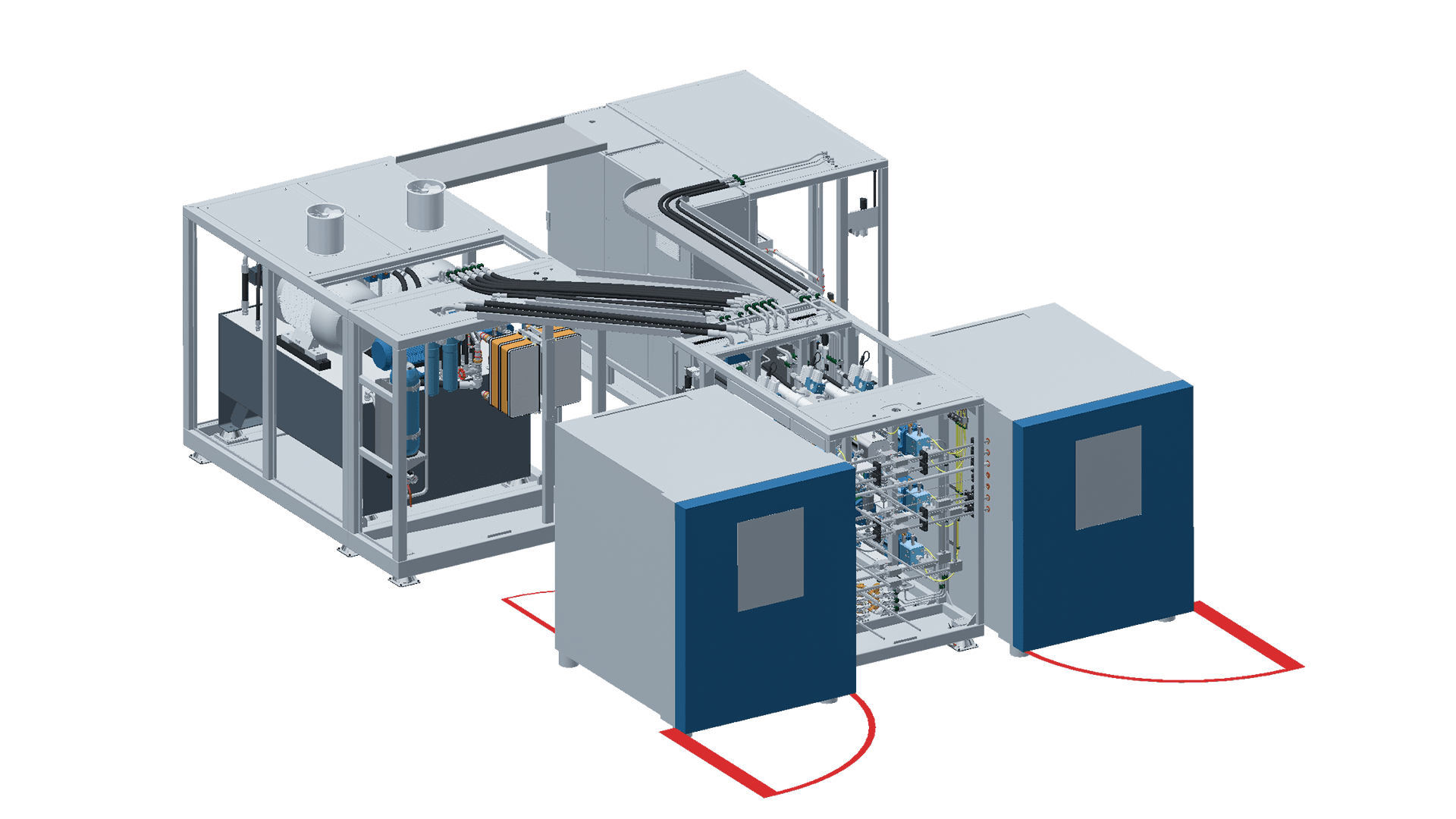 Water Hammer Test
The pressure test system has a servo-controlled hydraulic intensifier to generate pressure pulsation. This servo unit is a linear, highly dynamic feed axis. With this axis, one impulse mass is accelerated and the impulse mass hits a pressure piston. The pressure piston generates the pressure surge in the DUT. The acceleration and impact speed of the constant impulse mass is controlled by a dynamic digital controller. The level of the pressure shock is measured and the impact speed of the impulse mass is controlled via a control system. The pressure test rig can be expanded to enable burst tests.
Performance Data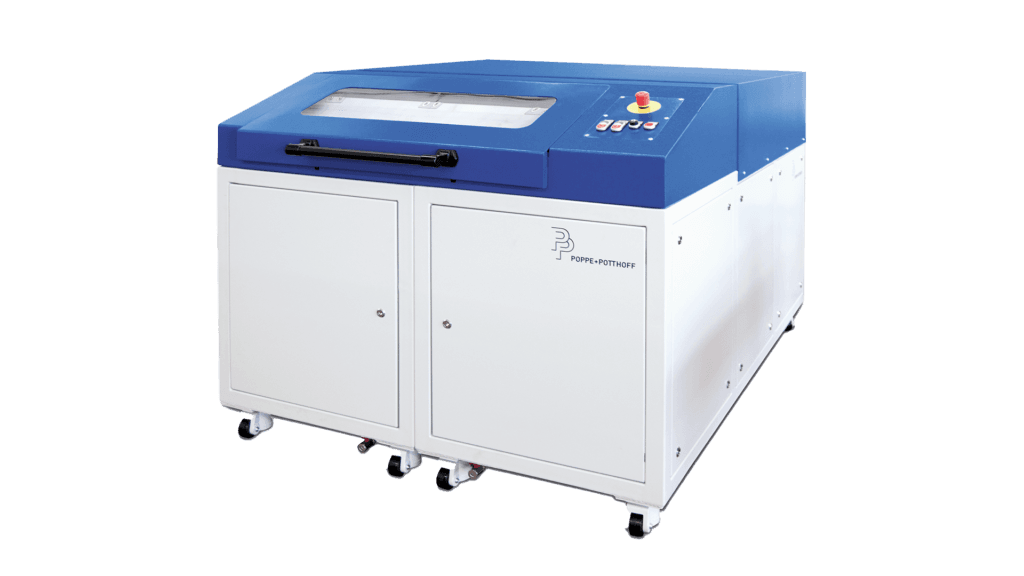 Line cleaning, leak and burst pressure test stand
The pressure test stand is designed for cleaning various lines (and hoses) with temperature-controlled test medium, such as oil, according to specifications and for testing lines for leaks at pressures of up to 800 bar. The pressure intensifier is used to subject test specimens to preset pressure ranges and/or to hold pressure at specified pressure levels. The line cleaning and pressure test bench is an independent unit for exposing and testing media-carrying components at various pressure points. In addition, the system cleans components and tests them for leaks using the pressure drop method with water (or other customer-specific media) at a pressure of up to 1200 bar. The result is displayed on a control panel and saved via a network interface.
Performance Data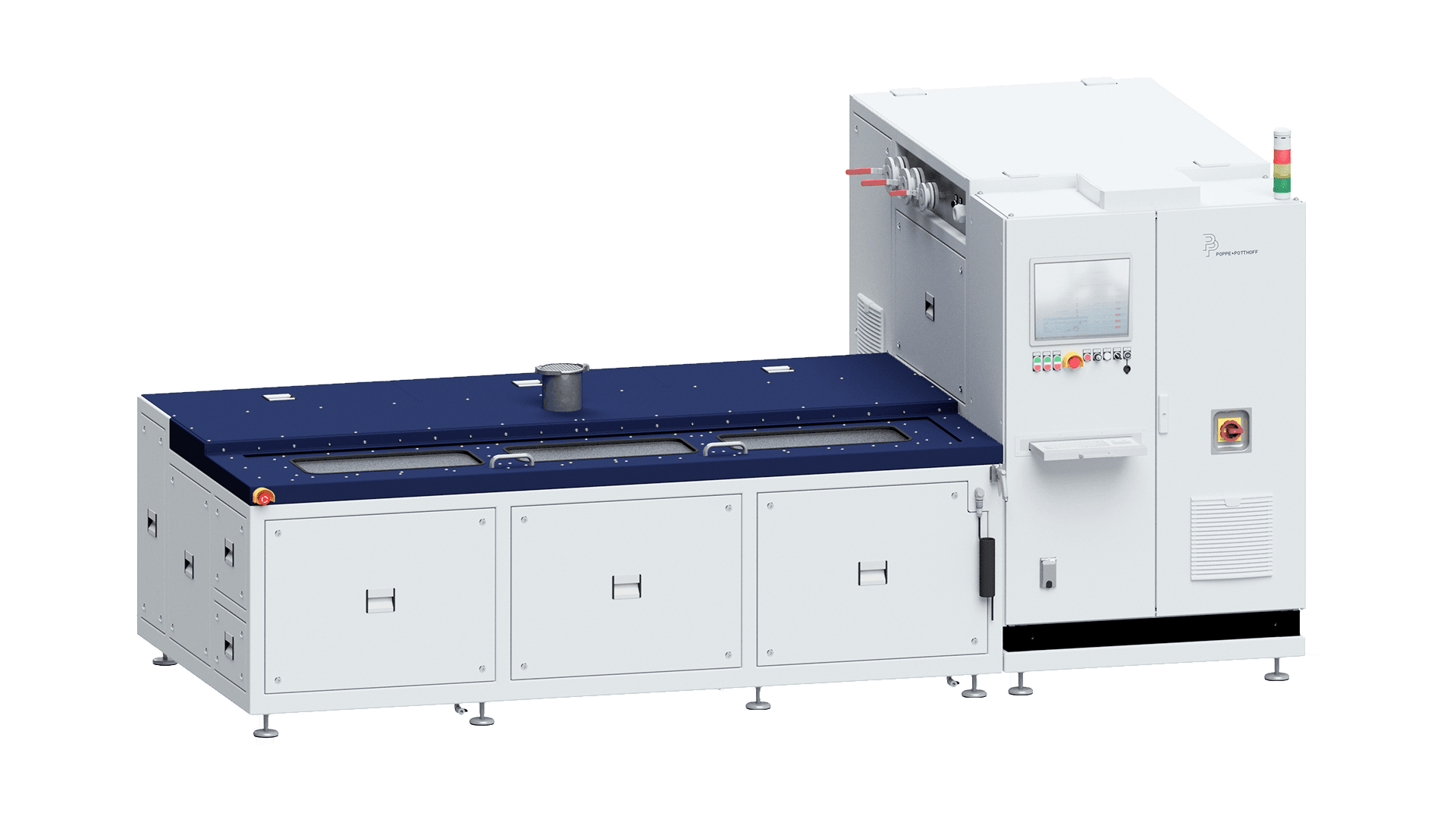 Test-as-a-Service
We offer several pressure tests in various pressure ranges as a test service. Whether for research and development or serial production, please contact us with your testing requirements for a non-binding offer.
PRESSURE TEST BENCHES AND APPLICATIONS
PRECISE, REPEATABLE AND RELIABLE
As a specialist in pressure testing technology and state-of-the-art test rigs, Poppe + Potthoff Maschinenbau supports the development and production of particularly resilient components made of various materials – especially for automotive, shipbuilding and mechanical engineering as well as fluid and the medical industry. We offer individually designed test benches such as burst pressure test rigs, pressure cycle test benches, leak test systems, functional test rigs and autofrettage systems.
BOOK AN INDIVIDUAL CONSULTATION

WITH A DEDICATED SALES ENGINEER
Our experienced technical sales team will help you with the implementation of your project and will find a solution tailored to your specifications and your requirements. We are represented internationally and can support you and your company worldwide. Our team has completed hundreds of projects many of which involved supporting test facilities with identical equipment. P+P Maschinenbau is your internationally trusted partner.
---
Every customer is unique and not every test rig design is fitting for the test facility. Our team of dedicated experts support your endeavors and will find a solution.
---