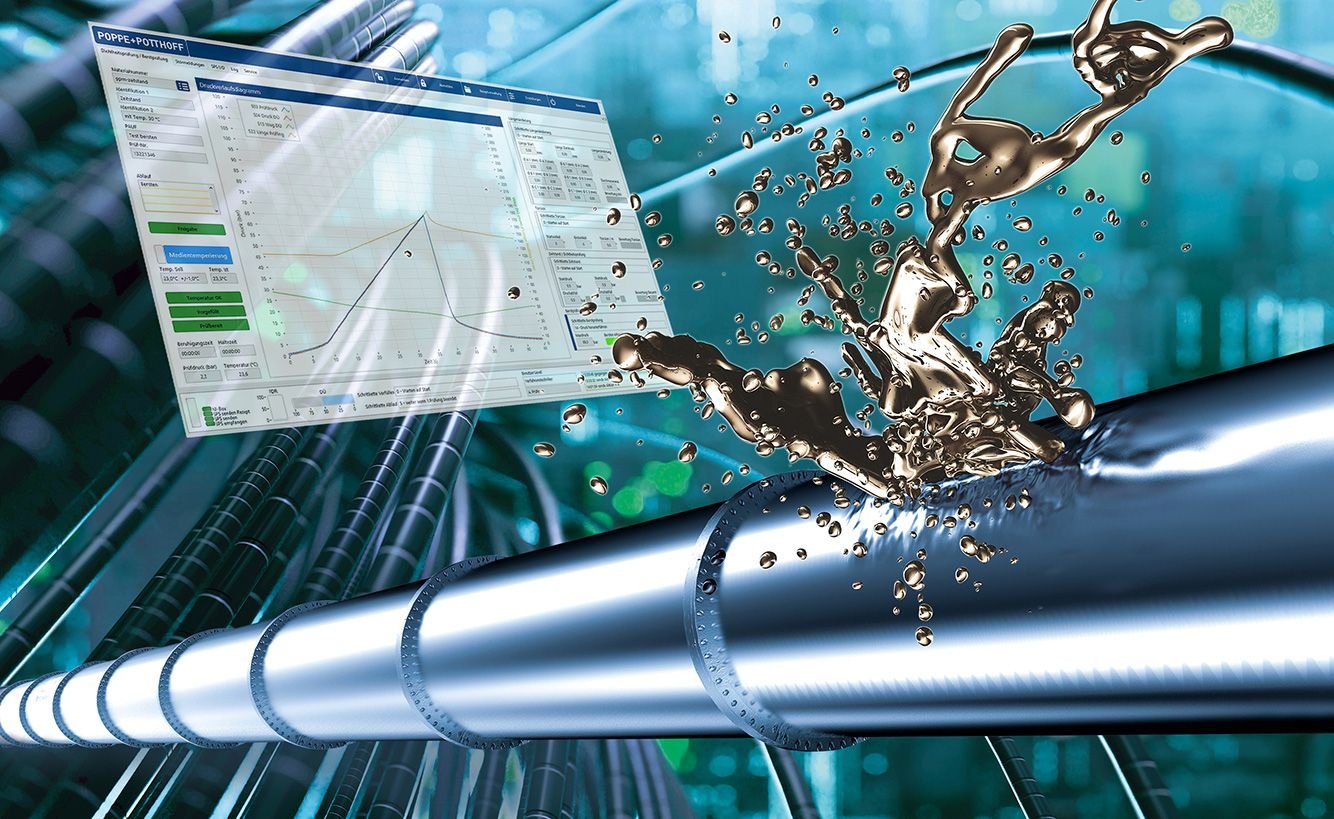 Burst pressure test bench up to 15,000 bar. Burst pressure tests are used to determine the maximum pressure that a component will withstand before rupturing.
Burst Test Rigs With

Programmable Pressure Ramp
Burst testing is a destructive pressure test that is used to determine the absolute maximum pressure at which a given component will burst or fail when pressurized under controlled conditions. Consequentially it can be of value for design engineers to assist with material selection, the thickness of the component, the geometry of the components, including cross-holes, and more.
Hence, a burst test can be used to determine the pressure at which a component or assembly begins to plastically deform and identify its ultimate material strength.

Burst tests have a large field of applications for e.g. plastic components in the automotive industry and low-pressure ranges of 20 bar. Nevertheless, pressures can go up to thousands of bars for some applications.
Typical test media can be air, water, oil, glycol, water/glycol mixtures, or others.
We at Poppe + Potthoff Maschinenbau offer various burst pressure test rigs in order to prove the quality of fluid-carrying pressure vessels. Typical inquiries are for hoses, pipes, tubes, sensors, various automotive components and other pressure vessels. Put them to the test with Poppe + Potthoff Maschinenbau pressure test rigs until they burst.
Burst Test Stand up to 4000 bar
In machinery and vehicles, fluid-carrying components are exposed to extreme conditions. The fatigue and material strength of pumps, pressure vessels, tubes, and pipes made of metal or plastic are tested through dynamic and static pressure tests such as leak or burst pressure tests. Depending on the area of application, the DUT tests are required with different test media under varying temperature conditions. Poppe + Potthoff supplies the turn key test rig together with a quick-change device for the test objects and an optional climate chamber.
Performance Data
High-Pressure Burst Test Stand
Poppe + Potthoff Maschinenbau develops and manufactures customer-specific pressure test rigs for testing DUTs during operation and under fatigue. These test benches enable customers to test all sorts of components such as fittings, airbags, hoses, tubes, accumulators, sensors, hydraulic components and other pressure vessels until they burst. Pressure and volume can be accurately increased up to a pmax. of 15 000 bar. Depending on the pressure unit in the test rig the pressure curve can be controlled to enable hold times, pressure reduction and generally a flexibly programmed pressure curve.
Performance Data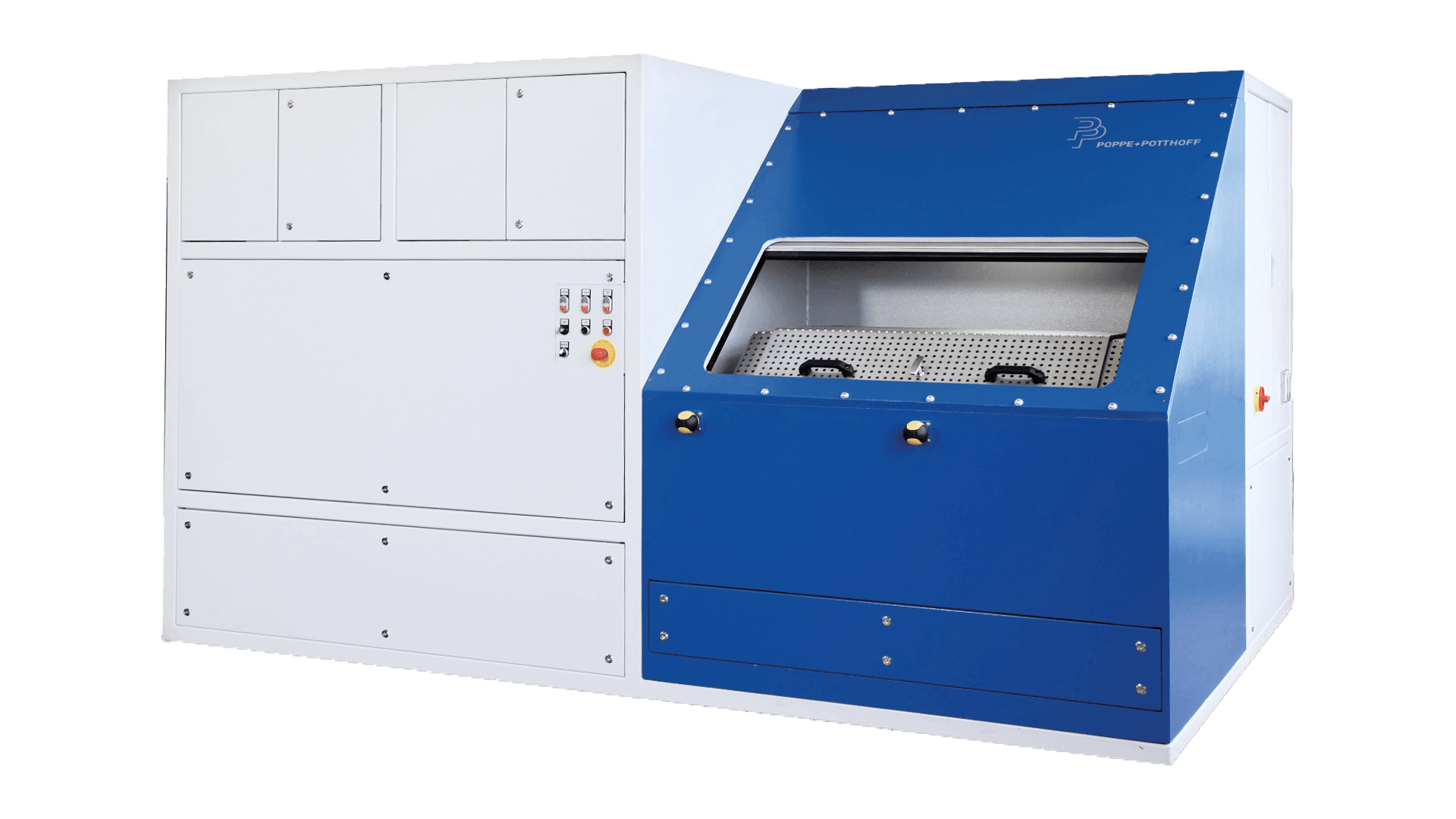 Burst Pressure Test Stand for Plastic Components
The test bench is a turnkey system and has been developed for the plastic component industry. Our modular system allows easy adoption of requirements for customer specifications. DUTs can be easily changed by using quick-release couplings. Furthermore, a quick-change device is possible in order to mount the DUT by hand outside of the test chamber. The burst pressure test rig can be equipped with two pressure circuits to fulfil a large range of testing requirements. One circuit up to 50 bar with our patented and wear-and-tear free pressure fine control method. The other circuit could involve a pneumatic intensifier to generate pressures of 400 bar. Destructive burst tests can be performed with water, oil, or water glycol for example.
Performance Data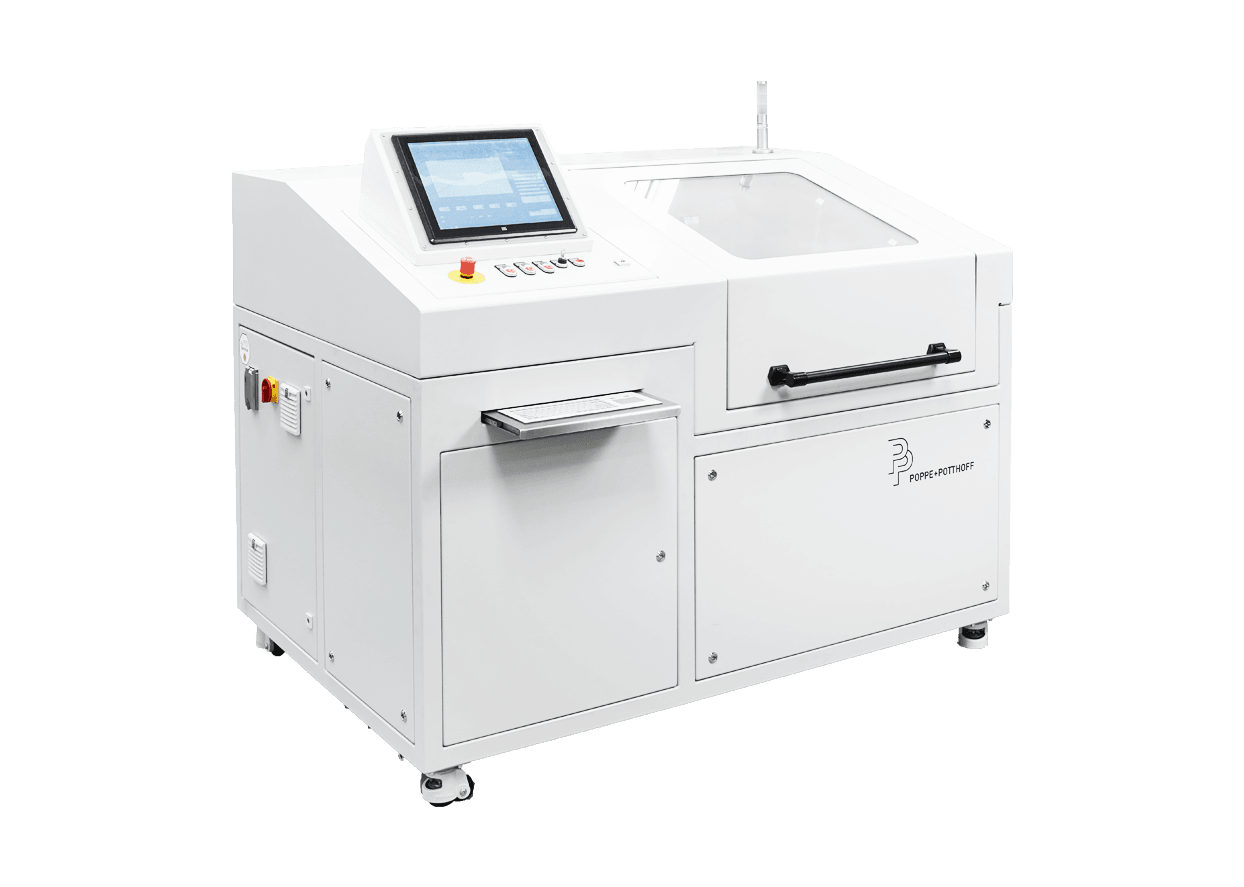 Burst Pressure Test Rig for Pipes, Tubes and Hoses
Hose, tubes, pipes and pipe joints are frequently required to go through various testing procedures, including burst tests. The components must safely withstand pre-defined pressures to pass quality control or be validated during R&D. To test their quality and material strength burst tests are conducted to prove the component behaves as expected under pressure and can withstand higher pressures than the operating pressure. Test benches by Poppe + Potthoff use state-of-the-art technology, which makes it possible to determine burst pressures within seconds while documenting the process and collecting various data points for in-depth analysis.
Performance Data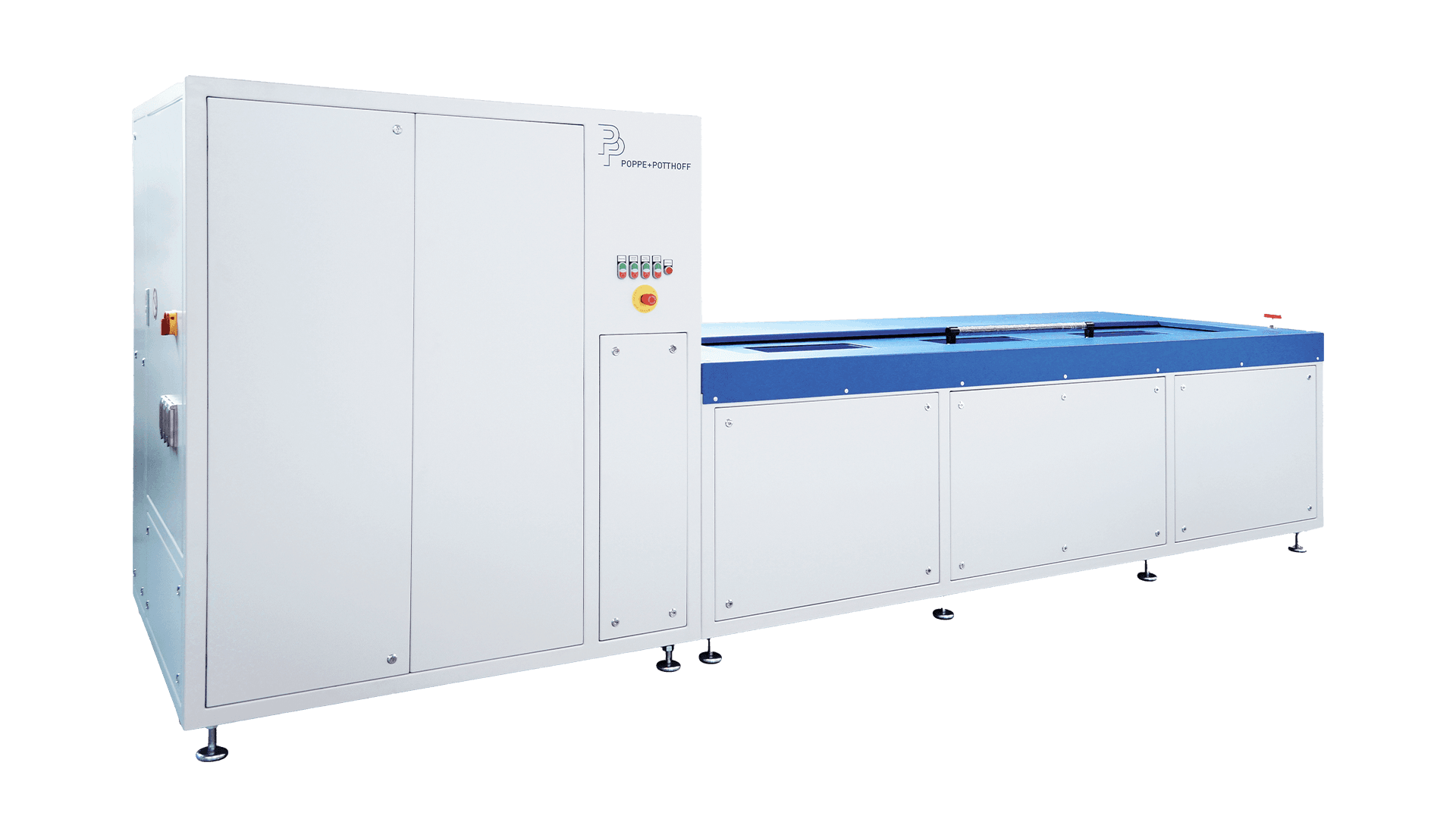 Pressure test bench for hoses with laser measurement
The test stand is a self-sufficient system and enables proof pressure tests, burst pressure tests and pressure drop tests on hoses. The freely programmable pressure control up to 60 bar is achieved by our patented wear-free precision pressure control method. This method is very accurate, repeatable and particularly suitable for large expansion volumes. Above a pressure of 60 bar a hydraulic pressure intensifier takes over and enables exact pressure ramps of up to 600 bar.
The test stand can be equipped with an automatic length, torsion and strain measurement system. The data is automatically stored in the system and enables efficient and quick checks.
In addition, the system can be offered with quick-release couplings (adapters) so that the test item does not have to be prepared in advance.
Performance Data
Burst- and Pressure Cycle Test Rig
The test stand is a self-sufficient system and enables bursting pressure and pressure cycle tests with trapezoidal (square) and sine (wave) curves. The test stand is ideally suited for components with large displacement volumes. The test stand is equipped with two separate chambers and has a specially developed flex pressure intensifier that can handle a wide range of component volumes without losing accuracy. The test stand can create freely programmable pressure ramps and can thus cover various test requirements.
Performance Data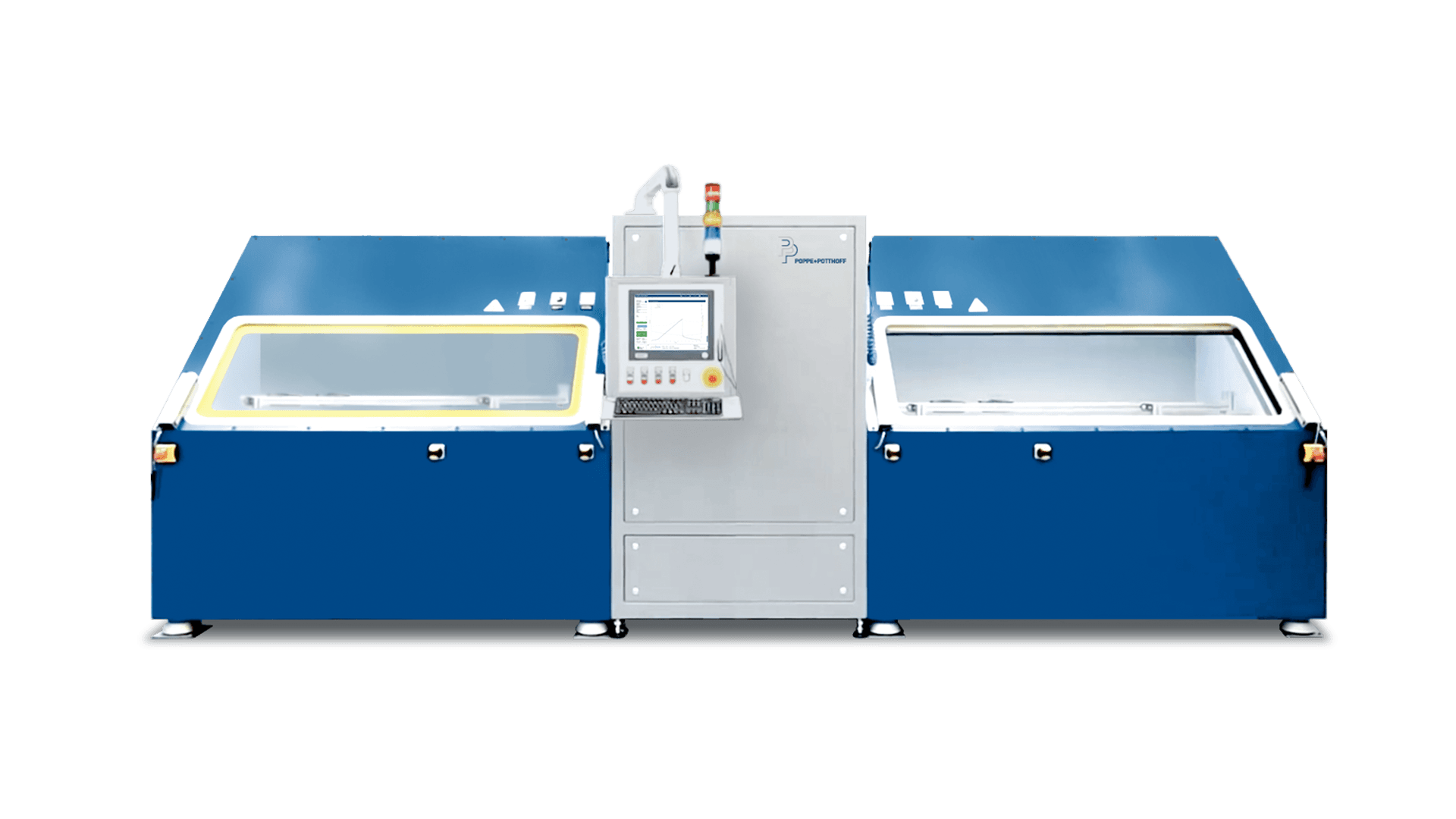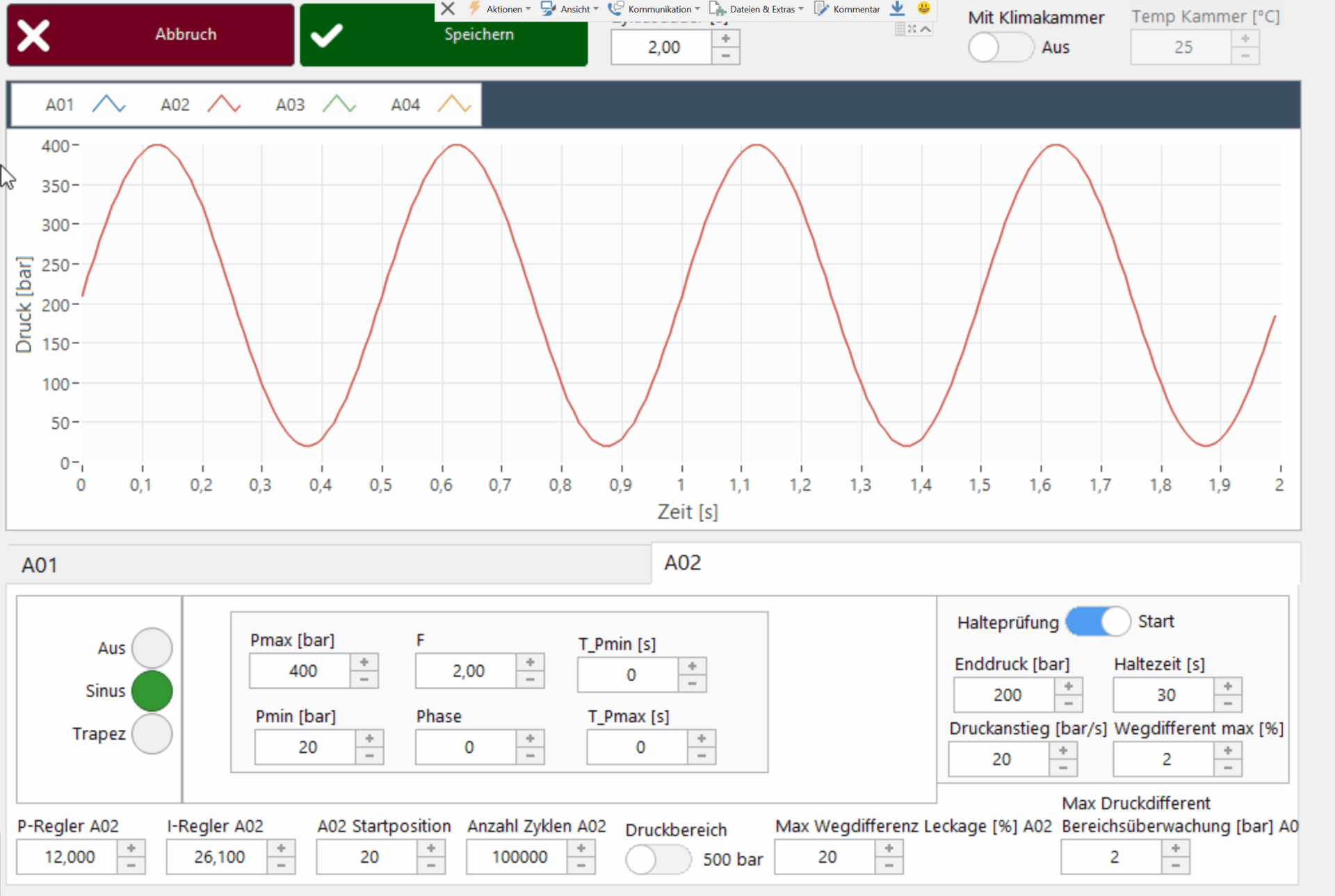 Testing as a Service
We offer burst tests in various pressure ranges as a test service. Whether for research and development or serial production, please contact us with your testing requirements.
PRESSURE TEST BENCHES AND APPLICATIONS
PRECISE, REPEATABLE AND RELIABLE
As a specialist in pressure testing technology and state-of-the-art test rigs, Poppe + Potthoff Maschinenbau supports the development and production of particularly resilient components made of various materials – especially for automotive, shipbuilding and mechanical engineering as well as fluid and the medical industry. We offer individually designed test benches such as burst pressure test rigs, pressure cycle test benches, leak test systems, functional test rigs and autofrettage systems.
Our experienced technical sales team will help you with the implementation of your project and will find a solution tailored to your specifications and your requirements. We are represented internationally and can support you and your company worldwide. Our team has completed hundreds of projects many of which involved supporting test facilities with identical equipment. P+P Maschinenbau is your internationally trusted partner.
---
Expertise, excellent knowledge of the market and affinity for our products guarantee our success.
---